Namma Lacchi (ನಮ್ಮ ಲಚ್ಚಿ) is a new popular serial that is aired on Star Suvarna channel. It will premiere from 6 February 2023. Vijay Suriya, Neha Gowda, and Saanghavi is seen playing the lead roles in this serial. Star Jalsha Channel's Potol Kumar Gaanwala (পটল কুমার গানওয়ালা ) Serial Is Remade In Malayalam As Vanambadi (Asianet), Kullfi Kumarr Bajewala (Star Plus), Mouna Raagam (Star Vijay), And Tuzech Mi Geet Gaat Aahe (Star Pravah).
Namma Lacchi Serial Starting Date, Timings Details
Title
Namma Lacchi (ನಮ್ಮ ಲಚ್ಚಿ)
Main Cast
Vijay Suriya
Neha Gowda
Saanghavi
Genre
Family Drama
Channel
Star Suvarna and Disney+Hotstar
Produced By
Not Available
Directed By
Not Available
Language
Kannada
Starting date
6th February 2023
Telecast Days
Monday to Saturday
Telecast Time
8:00 PM
Namma Lacchi Cast / Real Names
| Sr No. | Role Name | Role | Real Name |
| --- | --- | --- | --- |
| 1 | Lacchi Father | Singer | Vijay Suriya |
| 2 | Lacchi Mother | – | Neha Gowda |
| 3 | Lacchi | Small village girl Singer | Saanghavi |
The complete cast of Namma Lacchi Kannada Serial;
Vijay Suriya
Saanghavi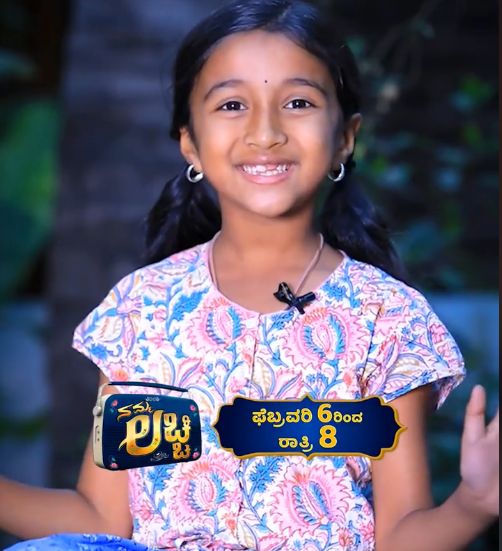 Neha Gowda
Namma Lacchi Kannada Serial promo
Neha Gowda Vijay Suriya Starrer Namma Lacchi Kannada Serial To Start On February 6th
Namma Lacchi Star Suvarna Serial Story
Namma Lacchi Serial: 'Namma Lacchi' is the story of a singing small village girl; on February 6th, 2023 New serial on Star Suvarna.
A new serial called Namma Lacchi is starting on Star Suvarna Channel. 6th February. It will be broadcast from 6 to 8 pm.
Namma Lacchi Serial on Star Suvarna: Star Suvarna Kannada Channel, which has been giving different types of stories through mythological serials and family serials, is now bringing another new story to the viewers which is 'Namma Lacchi'.
Already telecasting on Star Suvarna Channel, Edeyuru Sri Siddalingeshwar, Manasella Neene, A story has started, Udho Udho Sri Renuka Yallamma, Jenugudu, and Honganasu have become popular among the audience. Now a new story called 'Namma Lacchi' will be added to this line.
Singing is Life for a small child who grew up in a village. But mother opposes it. This child, who does not know who his father is, longs to find his father. The parents of this child are distant from some past events. His father is far away, and his singing skills are inherited from this small village girl. The story of the 'Namma Lacchi' serial is about how this village girl, who is a huge fan of music maestro Sangam Satnoor, comes to know the harsh truth that he is his father.
Vijay Surya, Neha Gowda, and Sanghavi as Lacchi are acting in the lead roles in this serial. The brand new serial 'Namma Lacchi' will be aired on Star Suvarna Vahini from February 6 at 8 PM.
"Neha Gowda opens up about her new project 'Lacchi', says, " I play a very different role which I have never done before"
Disclaimer: The above information is for general informational purposes only. All information on the Site is provided in good faith, however we make no representation or warranty of any kind, express or implied, regarding the accuracy, adequacy, validity, reliability, availability or completeness of any information on the Site.