You Season 4 Part 2 Review Joe Goldberg Confronts His Demons: In a surprising turn of events, the newest installment of the Netflix series You has arrived, and it is even more exceptional than before! Joe Goldberg, portrayed by Penn Badgley, is once again in the spotlight, but this time, he must confront the ramifications of his past actions, and it will be a tumultuous journey.
As we are all aware, Joe has engaged in some highly disturbing behaviors, such as stalking, abduction, and homicide. Nevertheless, the show's creators have never attempted to justify his actions, and fortunately, they are not starting now! The current season is bursting with unexpected and gripping plot twists, while also containing significantly greater emotional complexity than previous installments.
Joe is compelled to confront the consequences of his past deeds when he goes up against his most formidable opponent to date. Despite a few pacing issues (let's be honest, the final episode dragged on for too long), the show manages to achieve an extraordinary feat of storytelling.
The main reason for this achievement, you might ask? None other than Badgley himself, who delivers a performance that is both profound and spine-tingling. This season is unequivocally the most outstanding installment of You since the first season, and we could not be more ecstatic! Prepare to engage in a binge-watching session because this season of You is an exceptional adventure!
Netflix YOU CAST
| | |
| --- | --- |
| Penn Badgley | Joe Goldberg |
| Victoria Pedretti | Love Quinn |
| Ambyr Childers | Candace Stone |
| Elizabeth Lail | Guinevere Beck |
| Tati Gabrielle | Marienne Bellamy |
| James Scully | Forty Quinn |
Joe Goldberg's London Adventure Takes a Sinister Turn in You Season 4, Part 2
Get prepared for an exciting adventure, ladies and gentlemen, because the entire team is back for the newest installment of You! With renowned writers like Greg Berlanti and Caroline Kepnes, You delivers spine-tingling thrills and chills that will keep you on the edge of your seat.
The initial part of season four might have been slow-paced, but things start heating up in the latter half! Joe, now going by the name Jonathan Moore, is determined to turn over a new leaf and escape his murderous past. However, as he relocates to London and enters the inner circle of the city's elite, events take a dark turn. Joe is framed for a slew of crimes by an anonymous killer, and he has to race against the clock to clear his name and survive.
Sure, You has changed things up a bit by shifting to a new location and format, but it still possesses the same addictiveness that we all adore. With unexpected plot twists that will leave you holding your breath, this season of You is not to be overlooked. So grab some snacks, sit back, and get ready for an unforgettable journey!
Murder, Mayhem, and More: You Season 4, Part 2 Delivers the Thrills
Attention, fans of You! Brace yourselves because the second half of season four is a rollercoaster ride of thrills and chills! In the last episode, Joe, who now goes by the name Jonathan Moore, was attempting to leave his murderous past behind and start anew in London. However, Joe's plans are interrupted when he becomes embroiled with the city's elite and is framed for the murders of his wealthy acquaintances by an anonymous serial killer.
Part two of the season takes a dark turn when mayoral candidate Rhys Montrose is revealed as Joe's stalker and the notorious "Eat the Rich" killer. And if that's not enough to get your heart racing, Rhys wants to team up with Joe!
While Joe's marriage to Love was complicated and dangerous, Rhys is an even greater threat, using his knowledge of Joe's capabilities to escalate the danger.
As if things couldn't get more intense, Tom, Kate's father, played by Greg Kinnear, makes an appearance, adding to Joe's already precarious situation.
Directed by Rachel Leiterman, episode eight is the most daring and exciting yet, with shocking revelations about Marienne, Rhys' sinister plans, and the people who discover the truth. This episode is a must-see, and you won't want to miss it!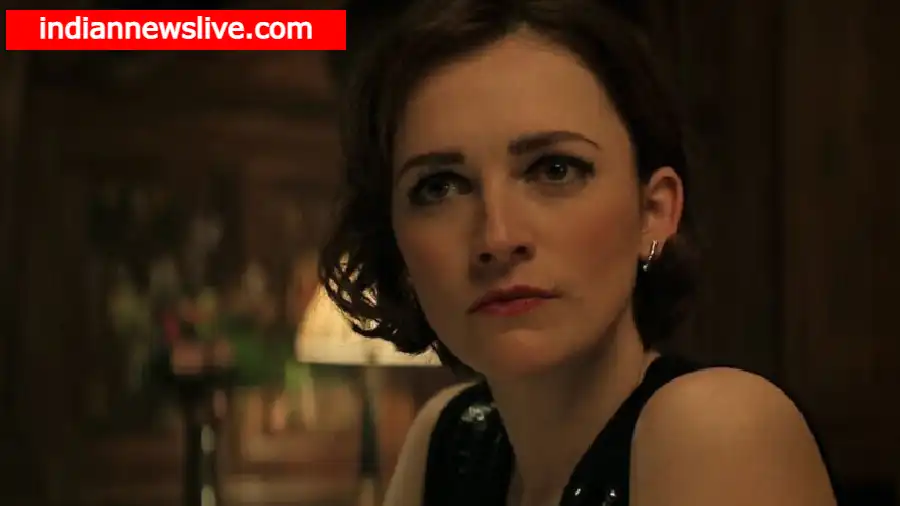 Joe Goldberg's Worst Nightmare: You Season 4, Part 2 Introduces a New Villain
Let's continue the discussion about "You" season four. Despite not being a Pedretti, Speleers holds his own as Rhys and brings out a darker side of the character that is ominous and unsettling. Meanwhile, Nadia, played by Amy-Leigh Hickman, makes shocking discoveries about Joe as his student in the second half of the season.
Lady Phoebe, played by Tilly Keeper, and Adam, played by Lukas Gage, also get more screen time as their relationship is explored further. However, the focus of the second half of the season is on Joe and his struggles with mental health, made worse by Rhys' frenzied dynamic with him. This will definitely keep viewers on the edge of their seats.
Netflix You Season 4 Part 2 Focuses On The Joe Goldberg
It sounds like the show really goes deep into Joe's character and explores his past and the trauma he's experienced. However, it's concerning to see how he continues to hurt those around him, especially the women in his life. The question of whether or not he can be redeemed is still up in the air, but it seems like the show creators know how to keep their audience hooked until the end.
The last five episodes of the season seem to be particularly wild, so for those who haven't watched it yet, it's time to grab some popcorn and start binging. The final episodes were released on Netflix on March 9th, so don't miss out on the chance to see how it all ends.
Disclaimer: The above information is for general informational purposes only. All information on the Site is provided in good faith, however we make no representation or warranty of any kind, express or implied, regarding the accuracy, adequacy, validity, reliability, availability or completeness of any information on the Site.